Description
BIBS Dummies – Try It Pack of 3 –
Round, Symmetrical and Anatomical Nipple

When it comes to dummy nipples, no size or shape is right or wrong because all babies are different. Babies have different preferences, different sucking techniques, and different mouth anatomy. Therefore, we offer different dummies that meet all these different needs.
This 3 pack containing one of each nipple style will allow your baby to try them all, and decide which shape suits them bast. Once they have found their favorite shape, you can then purchase additional dummies in the correct shape for them. No more guess work and wasted money on unused dummies! This is also a great option if you have tried other brands or the standard silicone nipple material unsuccessfully.
The collection contains:
1 x Round nipple in natural rubber latex
1 x Symmetrical nipple in natural rubber latex
and 1 x Anatomical nipple in natural rubber latex
We offer a range of colours too. All dummies are size 1, the perfect size for newborns and babies under 6 months of age.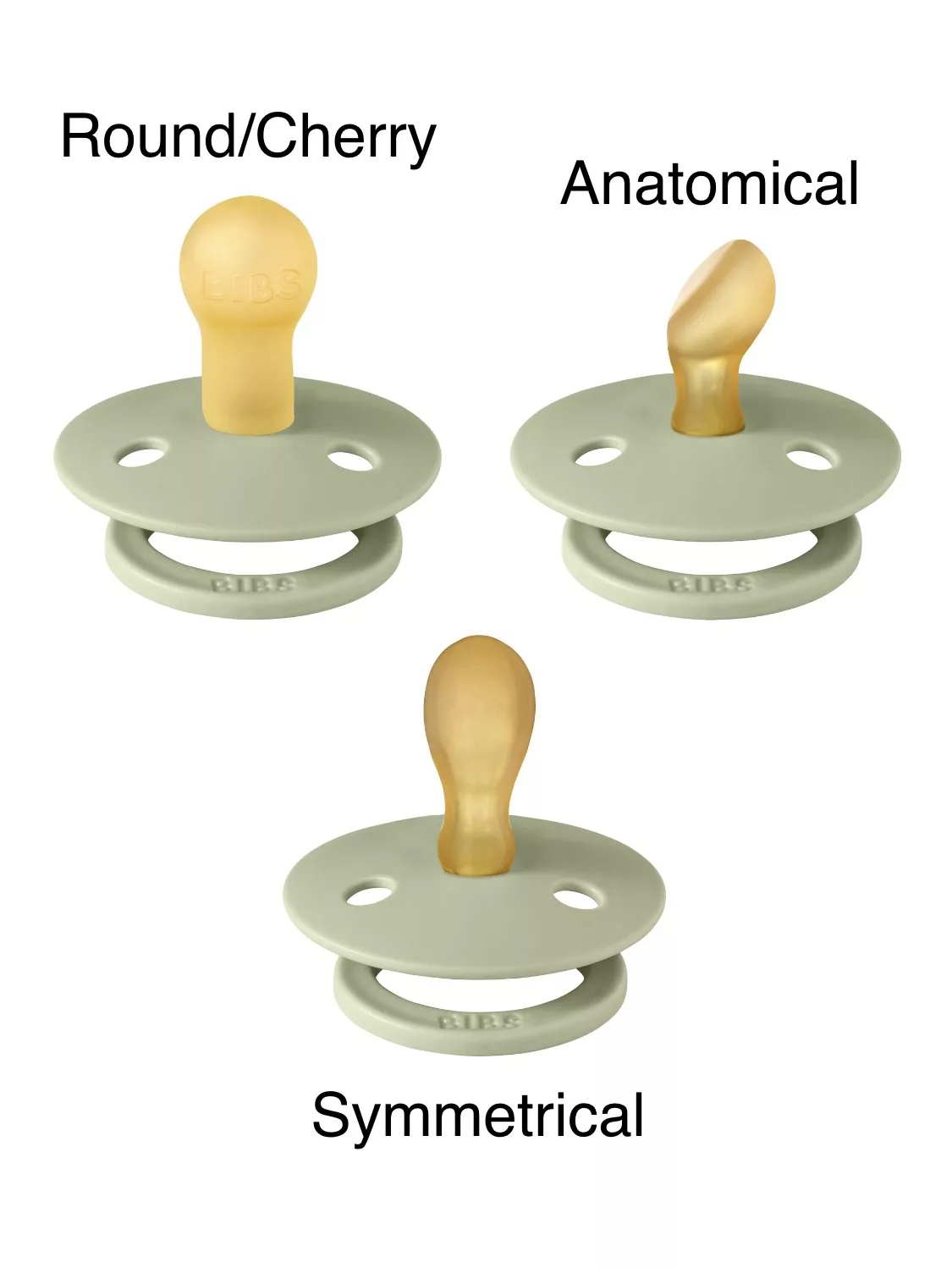 Other BIBS dummies shapes and products
To purchase any of the BIBS Round/Cherry Nipple dummies, click here: https://ourlittlehelpers.com.au/shop/bibs-dummies/
To purchase any of our BIBS Symmetrical Nipple dummies, click here: https://ourlittlehelpers.com.au/shop/bibs-dummies-symmetrical-nipple/
For our BIBS Anatomical Nipple dummies, click here: https://ourlittlehelpers.com.au/shop/bibs-dummies-anatomical-nipple/
We also have a range of dummy chains that will match and compliment the colour of your BIBS dummy. If you are unsure of the colour to match with your dummy chain, email us prior to placing your order.
BIBS pacifiers have a 100% natural rubber teat. They're also 100% BPA, PVC & Phthalates free. Babies love the cherry teat design as it mimics a mothers breast, an ideal shape for breast-feeding mothers.
BIBS pacifiers have been independently laboratory tested to ensure they meet Australian and European safety standards. (AS2432-1991 & DIN EN 1400).
Please choose your dummies carefully as unfortunately we can't offer a return for hygienic reasons, even if the package is unopened.



When you receive your dummies, please sterilize them according to the instructions included in the pack.
We try to give you as much information as possible to help you with your decisions. Here's a little more info about BIBS dummies!
https://ourlittlehelpers.com.au/bibs-dummies-everything-you-need-to-know/
Furthermore, here is some helpful information about dummies and dummy clips: https://www.hellonaturalliving.com/how-to-choose-a-dummy-for-baby/
Prices shown are inclusive of 10% GST effective as of Midnight, 1st January 2021
Waterproof Travel Bags
Our waterproof travel bags are brilliant for storing your BIBS Dummies and dummy chains and anything else you want to put in it for when your out and about.
Our bags come in two sizes, small and medium. These allow you to store anything essential for your nappy bag that you want to keep separate or clean.
Waterproof PUL material lines each bag so you can also store damp products.
The small bag is bag is approximately 19cm x 14cm with one zipper.
The medium travel bag is approximately 20cm x 25cm. There are two pockets with zippers so you can keep things separated if needed.  You can hang the bag from your pram or carry it with ease with the inclusion of a handle on this size bag.
Our waterproof travel bags are both the perfect size for you to carry, store them in your nappy bag, back pack, or under the pram.
 It is available in stylish and gender neutral black, perfect for him and her.  The colours will not run when machine washed with your regular washing. Air dry only, do not dry in dryer or in hot sun as this can damage the waterproof lining.