Description
Christmas Decorations
Decorations are now only available in light wood. Some images show decorations in dark wood color but this is no longer available. 
Our Christmas decorations are a beautiful and timeless addition to your family Christmas tree and will be a favorite keepsake over the years to come.
We have two styles of decoration, the Basic and the Deluxe.
Each decoration can be personalized with a name and the basic collection can also be personalized with a message to your loved one on the back.
Our Deluxe Range can be personalized with a message around the outer ring of the decoration, allowing you to write the most beautiful message for your loved one. The Deluxe range is the perfect gift for a baby's' first Christmas or to cherish the memory of a lost loved one. They make the most thoughtful gifts and honor the loved one at what may be a difficult time of year.
Each Decoration is approximately 2mm thick and comes with a decorative gold hook and a green hook, to allow for easy hanging on any tree.
See the photos below and in the gallery for the description of each type.
Basic Style:
This style can be personalized with a name on the front and an additional message on the back. This decoration is approximately 7.5cm in diameter.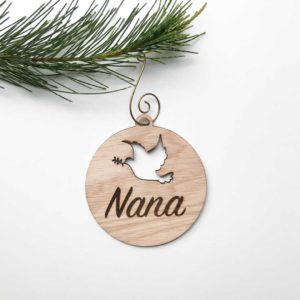 Back of Basic Dove Christmas Decoration
– can include and additional message here.
Deluxe Style:
This deluxe cut out style style can be personalized with a message around the outer ring. The Deluxe Name style as shown below can only have a maximum of 4 letters in the name eg. 'Baby' or 'Evie' etc. This decoration is approximately 9cm in diameter.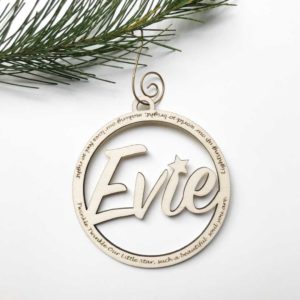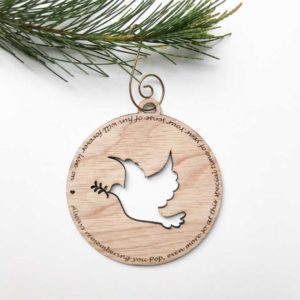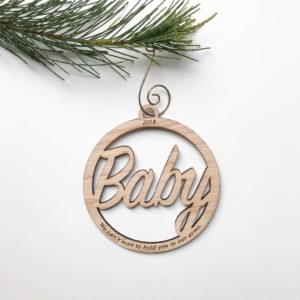 Each Order of decorations will be posted in a basic cardboard storage box. If your order requires more than one storage box, please add additional boxes to your cart. Alternatively you can add our more professional gift packaging if you are giving it as a gift.
Please note these are delicate items and must be handled with care at all times. Its suggested you hang these out of reach of little hands and store them appropriately to ensure they're not damaged or broken. Store in the box to protect it for hanging each year.
Click here to read the shipping information before you purchase
http://ourlittlehelpers.com.au/shipping/
Click here to read more about the safety and care information.
https://ourlittlehelpers.com.au/safety-care/